Easy-to-Wear Staples Find an Unlikely Compliment in High-Maintenance Details
In their usual fashion, off duty models roamed the streets of Manhattan with faces and hair ready to be prepped by the glam team at their next show. What differed this past week were the Fashion Editors who followed suit, pairing low-maintenance hair and beauty looks with intricate, high-fashion clothes and accessories. Dangling diamond earrings were showcased by the topknots they were paired with, Rolex and Cartier offset jeans and completely bare faces made head-to-toe designer outfits look effortless.
Braided Beauties
We haven't seen a huge braid trend since early in the decade, when everyone was braiding their bangs as they desperately tried to grow them out. We should have predicted their resurgence after Kim Kardashian adopted corn row-esque braids (which she continued to deem "boxer braids") earlier this year. Lucky for our scalps, corn rows are not back in. But they did usher in a new wave of all iterations of braids from classic styles like milkmaid-esque braided crowns to more avant garde updates to recent trends like the french braided half topknot seen below.
No Eye Contact
In typical Fashion Editor style, runway show attendees showed up to the week's events in eye-obscuring sunnies. This season colourful, uniquely-shaped frames with highly reflective lenses replaced the typical square black frames that seem to line the catwalks at every show thanks to Vogue Editor in Chief and Condé Nast Artistic Director Anna Wintour .
Au Naturel
With the hectic nature of Fashion Week (and life in general), we're always looking for excuses to rock lower-maintenance looks. Predicting the hair and makeup ruining humidity sweeping its way through NYC this season, many women attended the shows with air dried hair and "no makeup" beauty looks. It's hard to tell whether their perfect complexions are natural or just well set illusions, but either way we want to know how to achieve it.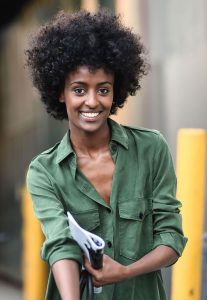 Banner image courtesy of ImaxTree. By Lindsay Cooper