Saliha Mahmood-Ahmed is the new queen of food in the UK, winning over the judges' hearts in this year's Master Chef competition.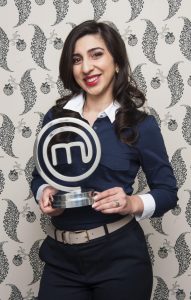 "I'm from a big Pakistani family, and we use food as a way of bringing everyone together." The 29 year old, a junior doctor and mother to a two year old boy, managed to win the competition after 13 hour shifts at work. She said before entering the contest, it was important for her to take no breaks and practice in all her free time from late night cooking to holidays. The winner hopes to combine her love of food and medicine and create ideal foods for those that have certain dietary restrictions. Saliha also said that after doing Master Chef she realizes she would love to have her own cookery show!
With only three hours to prepare a luxurious 3-course meal, the contestant whipped up these fusion dishes that blew away the judges.
All three dishes had the judges -- John Torode and Gregg Wallace -- wowing and licking their spoons.
Congratulations to the new Master Chef!
By Maheen Malik