A Nordstrom listing for these $425 USD jeans has gone viral due the irony that it is trying to sell. These jeans are on sale on the upscale department stores site for $605.81 Canadian dollars. The jeans seemed to be layered with fake dirt that is such great quality that looks real! It is the upscale version of mud for sure. The site recommends to wash the jeans in cold water gently and line drying. There is clearly a very fine line between distressed fashion and a big joke.
These are perfect for someone that enjoys getting down and dirty. Who knew working in the dirt would ever be in fashion! Another option would be to just go out and take a splash in the mud puddle near your house and you're good to go.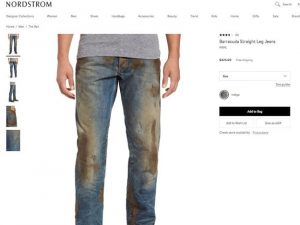 The PRPS Barracuda Straight leg jeans are perfect to pair with its matching Jacket for the ultimate rugged look. The complete look will guarantee a look that most construction workers rock daily. The set in total is priced ridiculously but hey at least you can look sharp on your next big date.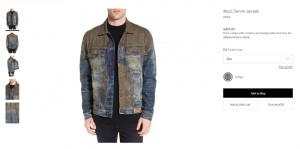 The description that accompanies the jeans is sure to change your mind and splurge $600 for some Americana work wear. "Heavily distressed medium-blue denim jeans in a comfortable straight-leg fit embody rugged, Americana work wear that's seen some hard-working action with a crackled, caked-on muddy coating that shows you're not afraid to get down and dirty." In other words; how to look like a construction worker 101.
People took to twitter to give their opinions and laughs on the muddy pair. Let us know what you think!
https://twitter.com/emilyaegraves/status/857292456462864387?ref_src=twsrc%5Etfw&ref_url=https%3A%2F%2Ftribune.com.pk%2Fstory%2F1394710%2Fus-clothing-brands-425-jeans-coated-fake-dirt-go-viral%2F
https://twitter.com/DavidGKowalski/status/857435021065506816?ref_src=twsrc%5Etfw&ref_url=https%3A%2F%2Ftribune.com.pk%2Fstory%2F1394710%2Fus-clothing-brands-425-jeans-coated-fake-dirt-go-viral%2F
Reebok just slayed Nordstrom's $425 'fake mud' jeans with a sweat-soaked shirthttps://t.co/97Cup4PE2Z pic.twitter.com/zK0yEIl20X

— Circa (@Circa) April 27, 2017
https://twitter.com/Pamela_Moore13/status/856960983603990529?ref_src=twsrc%5Etfw&ref_url=https%3A%2F%2Ftribune.com.pk%2Fstory%2F1394710%2Fus-clothing-brands-425-jeans-coated-fake-dirt-go-viral%2F
By: Maheen Malik