Here's a couple more things you should be adding on to your back to school shopping list.
Quo Cosmetics
, a beauty line exclusive to Shoppers Drug Mart in Canada has launched a limited-edition back to school collection that makes it easy to grab and go. The palette's include everything you need to get more than one beauty look and have made it very practical for school use. The products in the collection include:
Quo Daily Beauty Palette, $42
This palette includes 28 eye-shadows, 7 eyeliners and 3 blush shades.
Quo Taking Notes Beauty Palette, $32
This palette comes in a black zip case making it look like a three-ring notebook and contains 12 eye shadows, 2 eyeliners, 4 blush/bronzers and 4 lip colours and it even includes slots for your cards and cell phone.
Quo Hall Monitor Clutch, $22
The collection also includes accessories such as this case which includes four card slots, a coin pocket, a phone holder and a removable wrist strap.
Quo Get a Grip Magnetic Brush Set, $38
This kit contains 5 brushes, magnetic silicone tips and a magnetic band so your brushes stay in place even if you toss them in your backpack.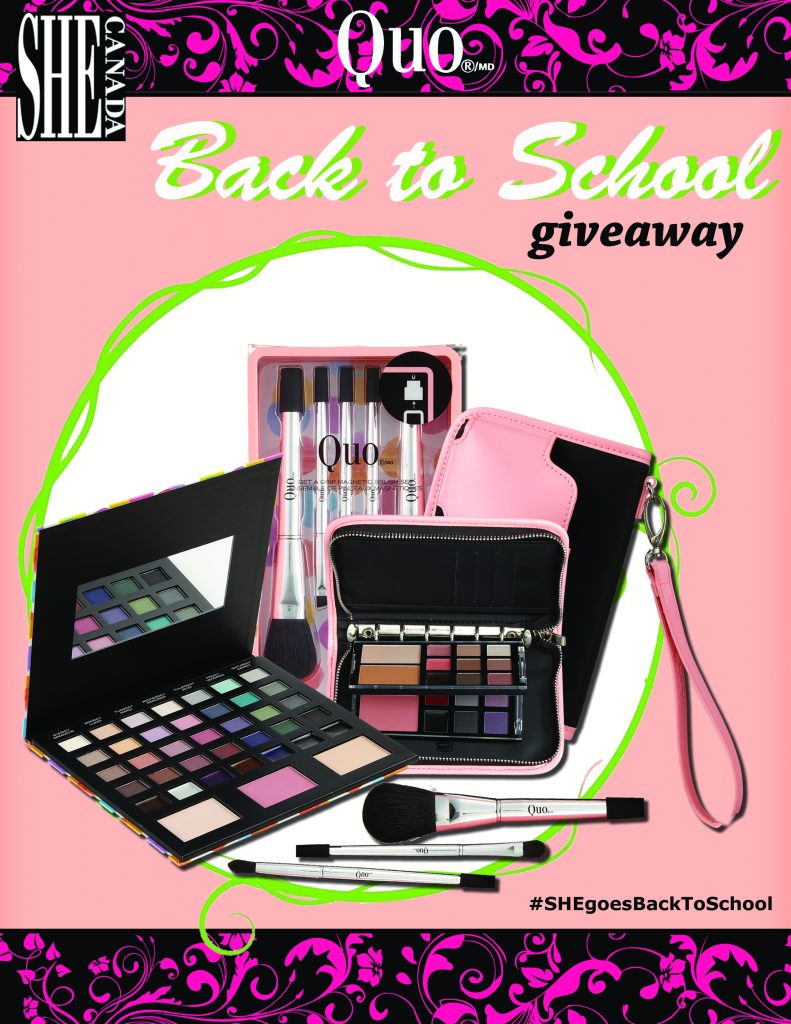 The collection will be available at Shoppers Drug Mart starting this month and is a limited edition run and we loved the line so much we are giving away two palettes to two lucky readers. Follow us on our social media for more details:
Twitter
: Follow SHE Canada, like and retweet our giveaway tweet.
Facebook
: Like SHE Canada on Facebook, like and comment on the post, tagging three friends. Share the post for a bonus entry.
Instagram
: Follow SHE Canada on Instagram, like the post, regram/share, and comment. Tag three friends for a bonus entry. Contest open to Canadian residents only. Ends August 19th, 2016. A winner will be chosen and announced on August 22nd, 2016.