Whether Bollywood has any significance to you or not, you might have heard the name Shah Rukh Khan. The certifiable superstar with over 80 films and hundreds of thousands of fans gave his first TED talk at the 2017 TED conference in Vancouver, Canada.

He made the audience laugh and honestly spoke out about the truths of fame, about his successful and not so successful films and his reputation in India as the "King Of Romance". The full video of the talk was released on Thursday, sending the internet in a frenzy. Of course, his many fans duly shared and loved the video as well.

Not only the audience at the Vancouver Convention Centre but the entire world enjoyed SRK's Talk and the honesty he spoke with. His 24 million twitter followers had the hashtag #SRKLiveAtTEDTalks trending worldwide. As if that wasn't crazy enough, his Canadian fans had swarmed the outside of the convention centre for hours! This photo from a Business Insider journalist should speak for itself.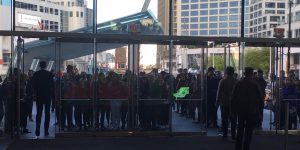 As great as the talk was, there was a bigger motive behind Khan's debut on the TED talk. The Star will be hosting a TV version of TED Talks in India by the name of "Nayi Soch" in other words "New Thinking". This is meant to provoke a new way of thinking in India as well as give those who'd like to share their thoughts and ideas a platform. The popularity and status that Khan will bring to the show is sure to boost the TED brand's audience.

Watch the full talk below and let us know what you think!



By Maheen Malik