Way back in 2016 (wait, was 2016 really only a month ago?!), Burberry made headlines as one of the first European legacy labels to debut a "see now buy now" runway show. The concept eschews long-held traditions of showing collections a season ahead, instead allowing consumers to purchase pieces right after they appear on the runway. Since then, many brands have embraced the trend to much success, and now joining their ranks is Swedish brand H&M.
The iconic fast fashion label will return to Paris Fashion Week on March 1st, where they will debut their Spring 2017 collection. Pieces will be available for purchase online immediately after, and in-stores a day later. To top it all off, the runway show will be live-streamed online à la Yeezy Season, so consumers can join in on the spectacle from the comfort of their homes.
"We're very much looking forward to testing this exciting new format," says Pernilla Wohlfahrt, head of design and creative director of H&M. "Bringing fashion immediately from catwalk to checkout marks a new era for the fashion industry."
This move makes perfect sense for a brand like H&M, who have the means to produce on a large-scale with minimal turnaround. But for other designer labels, the leap still seems at best unnecessary, and at worst, unrealistic. Years and years of the same format haven't failed them yet, so why change now?
Part of their hesitancy likely stems for the desire to keep high fashion exclusive. Revolutionary concepts like live-streamed fashion shows and "see now buy now" distribution schemes lend themselves towards a more accessible industry. Inevitably, these kinds of things will chip away at fashion's alluring glamour and mystery.
But perhaps a less elusive industry is in all our best interests, at least in the grand scheme of things. As the gap between product and consumer shortens, it will hopefully open up the door for more honest conversations about fashion's most pressing issues (i.e diversity, sustainability). So long as decision-making in fashion continues to be left up to elite designers, models, and purchasers, it is unlikely that any meaningful change will come about.
Phew, that's some heavy stuff. If you're not in the mood for intense contemplation, you can take a look at some of the looks H&M will be debuting come March :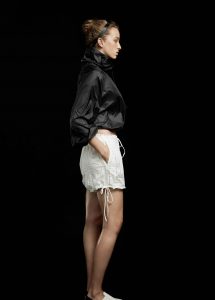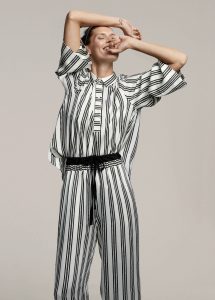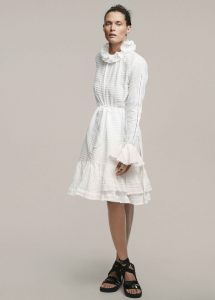 (images courtesy of Fashionista)
by Imaiya Ravichandran