This weekend in Toronto, everyone partied in the streets and in their homes in celebration of pride week. The city was a hub of acceptance, love and celebration as they marched through the streets of Toronto representing one love and acceptance.
Amongst all, the prime minister also celebrated with everyone and marched the parade accompanied by his wife and two children. Trudeau showed pride some love with a rainbow coloured maple leaf sticker on his face. He waved at the thousands of people who lined both sides of the parade route down Yonge Street, frequently yelling out, "Happy Pride!"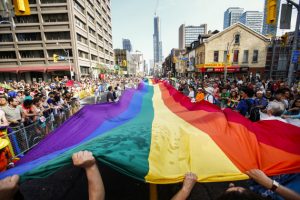 "It's all about how we celebrate the multiple layers of identities that make Canada extraordinary and strong," Trudeau told reporters before the parade started.
The parade succeeded in creating a loving and accepting atmosphere for every person living in the city, especially those of the LGBTQ community. We all love Mr. Trudeau for his optimistic approach towards every type of people no matter what gender, religion, and race. The prime minister partied at the pride parade but did not forget that on the same say was Eid-Ul-Fitr, a muslim holiday that celebrates the end of Ramadhan. He rocked "Eid Mubarak" socks at the parade to stay inclusive and show that he supports all of Canada as a whole.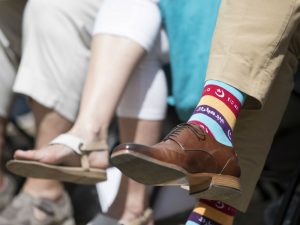 We love it!
Whether it was for Pride or Eid, we hope your day went just as well as our favourite prime minister!
By Maheen Malik