We all know of the tragedy that took place in Manchester about a month ago. Ariana Grande's concert was ended by a tragic
terrorist attack
that left many injured and 22 killed. Although the 23 year old singer was safe after the attack, she was deeply hurt by the tragedy.
Since then Grande has worked non-stop to help the families of the victims and share her love with Manchester. The One Love benefit concert that she organized featuring numerous amounts of celebs including Coldplay, Justin Beiber, Katy Perry and so many more, has been recognized highly by the city of Manchester.
The councillors noticed and highly appreciated the singers efforts towards Manchester. The council held a meeting which resulted in a unanimous vote from all the councillors in making Grande the an honorary citizen of Manchester.
Grande helped raise almost £3m when she returned to Manchester to perform at the concert 13 days after the suicide bombing.The singer also visited a number of injured children in hospital following the attack. Her mother, Joan, who ushered concertgoers to safety backstage after the explosion in the arena foyer, was seen walking through the One Love Manchester crowd telling young fans not to give in to fear at the benefit concert on June 4th.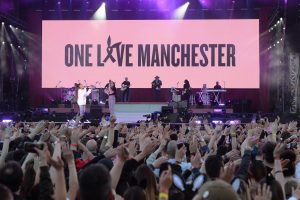 "A young American woman for whom it would have been understandable if she never wanted to see this place again, But no - instead she, as an artist, a performer, was determined that she would not perform again until she had returned to Manchester to perform,"
Said the council leader, Sir Richard Leese.
"In doing so, she brought comfort to thousands, she raised millions for the We Love Manchester Emergency Fund and became the first patron of that fund. And that's why I propose that Ariana Grande is made the first honorary citizen of the city of Manchester."
he added
Family members of some of the victims sat in the public gallery of the city's town hall as the motion was passed. The meeting ended with a performance of Oasis' Don't Look Back In Anger by the Halle String Quartet.
The Halle String Quartet played Don't Look Back in Anger after cllrs voted to make Ariana Grande an honorary citizen of Manchester pic.twitter.com/Dyc9Zz5QDU

— Eleanor Barlow (@EleanorBarlow) July 12, 2017
Our love and prayers are still with the families of the victims and Manchester as well as Ariana who seems to have been deeply rooted by the incident.
By Maheen Malik