Selena Gomez is starring in the new coach campaign and all eyes have been on the star and her newly rebooted street style game since the collaboration was announced last year. The latest development takes things a major step further, putting Gomez front and center as the face of the brand, far and away her biggest campaign to date.From Coach's advertisement the disney star ca be seen making a big turning point into a sophisticated Hollywood hyphenate.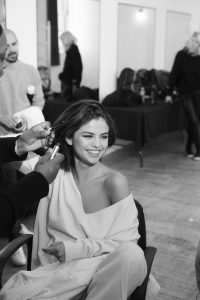 "Selena is a warm, charming person, so to spend time with her is a real pleasure," said creative director Stuart Vevers at the brand's New York headquarters. "A lot of the words I've used about Coach I found myself very seamlessly using about Selena. We talk about authenticity and ease, and I think that's why we made the connection."
The actress, singer, producer, and model is featured in the backseat of a vintage car in one of the advertisements and images. She wears the coach prairie dress while clutching an oversize Swagger bag, selling completely the cool-girl-next-door vibe.
With the first of the campaign headed to magazines—and cell phones—the world is set to get its first taste of Selena in her role as brand ambassador.
"I'm excited for people to see a different side of Selena, but I'm excited to see what her fans will think too," said Vevers with a smile. "They're very vocal about their queen, and so far they've been pretty nice."
By Maheen Malik