Mistakes are an unavoidable part of life and it's important that we don't feel too bad when we make them. Unless you're running Burberry's Twitter account. In which case, please do feel bad enough to repeat your mistake.
During last night's BAFTA awards, Burberry tweeted out their congratulations to Dev Patel, who had just scooped up the Best Actor award for his role in Lion. The gesture was thoughtful enough-- the accompanying picture, though? Not so much.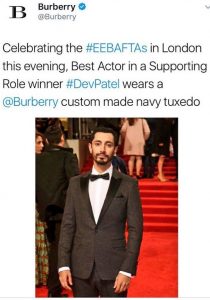 No, your eyes aren't playing tricks on you. That is, indeed, a picture of British MC and actor, Riz Ahmed. Let's give Burberry the benefit of the doubt and assume the slip-up was an innocent one, probably made by a freshly graduated PR Intern who is now terrified (s)he'll be fired (if (s)he hasn't been already). Even so, there's a subtle implication here that's hard to ignore: that all brown people look the same, and even the biggest of companies, ones who have poured millions of dollars into constructing a likeable public image, can't be bothered to try and differentiate between them.
The Twitterverse quickly took notice of the mistake and loudly expressed their disappointment.
Trying to avoid a full-blown PR disaster, Burberry quickly issued an apology: "We have apologised directly to Dev and Riz for the mistake. We are incredibly sorry, it should not have happened. We are checking processes to ensure it doesn't happen again." They followed this up with another two tweets featuring Riz and Dev, both in their respective Burberry suits.
Celebrating the #EEBAFTAs in London this evening, Best Actor in a Supporting Role Winner #DevPatel wears a @Burberry custom made navy tuxedo pic.twitter.com/pj6Fwy8XCm

— Burberry (@Burberry) February 12, 2017
Actor @rizmc wearing a grey mohair tuxedo on the #EEBAFTA red carpet at the @RoyalAlbertHall this evening pic.twitter.com/SMzuKaLDNi

— Burberry (@Burberry) February 12, 2017
Hmmm, good recovery. Guess you're off the hook this time, Burberry. Just be thankful you didn't offend the brown girls of the world too badly-- we're a fearsome bunch when we want to be.
by
Imaiya Ravichandran