One of the shows that New York Fashion Week audiences were most looking forward to was Raf Simons' designs for the Calvin Klein Spring 2018 collection. The collection was inspired by the magic of movies, invoking mixed images of the classic American Dream and American horror on the runway.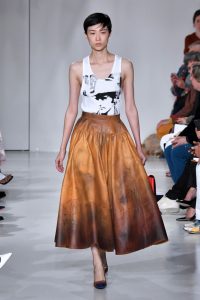 There was a Western look that was seen throughout the show with demin, cowboy prints, and  vibrant square pocket blouses. Kaia Gerber, Cindy Crawford's daughter, strut down the runway for the first time and the press loved her!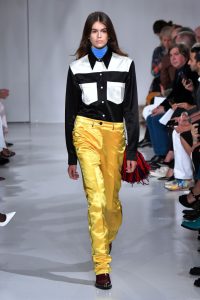 The runway show also pushed boundaries that everyone was waiting for by making a cinematic and political statement of present day America. Many of the garments were latex, had the illusion of blood stains with an homage to Alfred Hitchcock or had Andy Warhol knife patterns.
Countless celebrities made an appearance at the show including Millie Bobby Brown, Anna Wintour, Jake Gyllenhaal, Lupita Nyong'o, Trevor Noah, and more.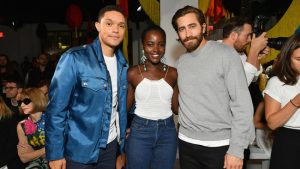 As fashion week continues, the current state of American politics seems to be an ongoing theme. New York Fashion Week is a place where designers feel they can express themselves creatively and personally. The political statement of past and present America that was expressed in Calvin Klein's show is one that makes a runway show unforgettable. By: Alaina Pawlowicz