During the 24th Annual Crystal Awards at World Economic Forum (WEF) in Davos, it was a moment of recognition for the works of those influencers who impacted our society in a major way.
Indian superstar Shah Rukh Khan was conferred with the Crystal Award on the eve of WEF's annual meeting at Davos for the work he has been doing for acid attack victims besides raising awareness about human rights. His non-profit, Meer Foundation has been helping acid attack victims, women with major burn injuries through medical treatment, vocational training and livelihood support.
This award holds much importance, as not only in India but Shah Rukh Khan is globally a sought-after figure to bring these issues to the attention of those having similar power and role in the society for a contribution in similar ways. Women and children's issues have plagued us not only in India but the world over to be considered as the primary responsibility by those having a say in our society.
In his charged-up speech, Shah Rukh shared the lessons he has learnt from his "beautifully scarred" women, for the need to get out of the way to work as equals rather than less or more privileged. "We, the powerful, need to get out of the way, to pick the barriers apart, the ones that give us names and races and colours and hierarchies", he added.
His non-profit, Meer Foundation is working relentlessly for women in distress to make them stand up to be independent instead of living like victims. He has also been involved in creating specialized children's hospital wards and has supported child care centres with free boarding for children undergoing treatment for cancer.
Other awardees included Australian Actress and two-time Oscar winner Cate Blanchett and British songwriter and singer, Sir Elton John.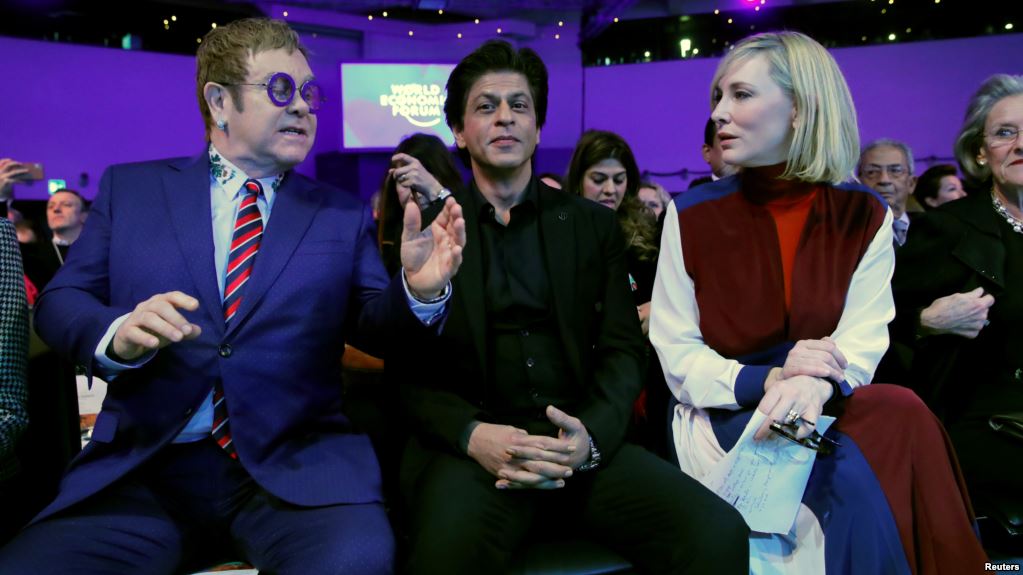 Khan expressed his gratitude to have been chosen and honoured along with such stalwarts of the entertainment industry.

Sir John received Crystal Award for his Foundation working for AIDS patients.

Cate Blanchett who has been working as Goodwill Ambassador for UN's Refugee Agency, UNHCR since 2016 for those who have fled their homes due to the conflict in Syria. She has been visiting Jordan and Lebanon to meet these refugees as part of her role as Goodwill Ambassador. Expressing her concern over those displaced people, Cate said that it could have serious consequences if much more is not done to help those in desperate need.

Artists making a visible change in society are felicitated with Crystal Awards by World Economic Forum. This year's awards ceremony took place in a village in Davos, in the Swiss Alps. The annual meeting is attended by world's prominent leaders, businessmen and policy makers. Not to mention, this year's attendees list includes the power leaders of politics from Prime Ministers of India, Canada, US President and many other equally important leaders from different parts of the world.

By: Sushma Shahabadi
Image courtesy: Reuters, Times of India, Hindustan Times