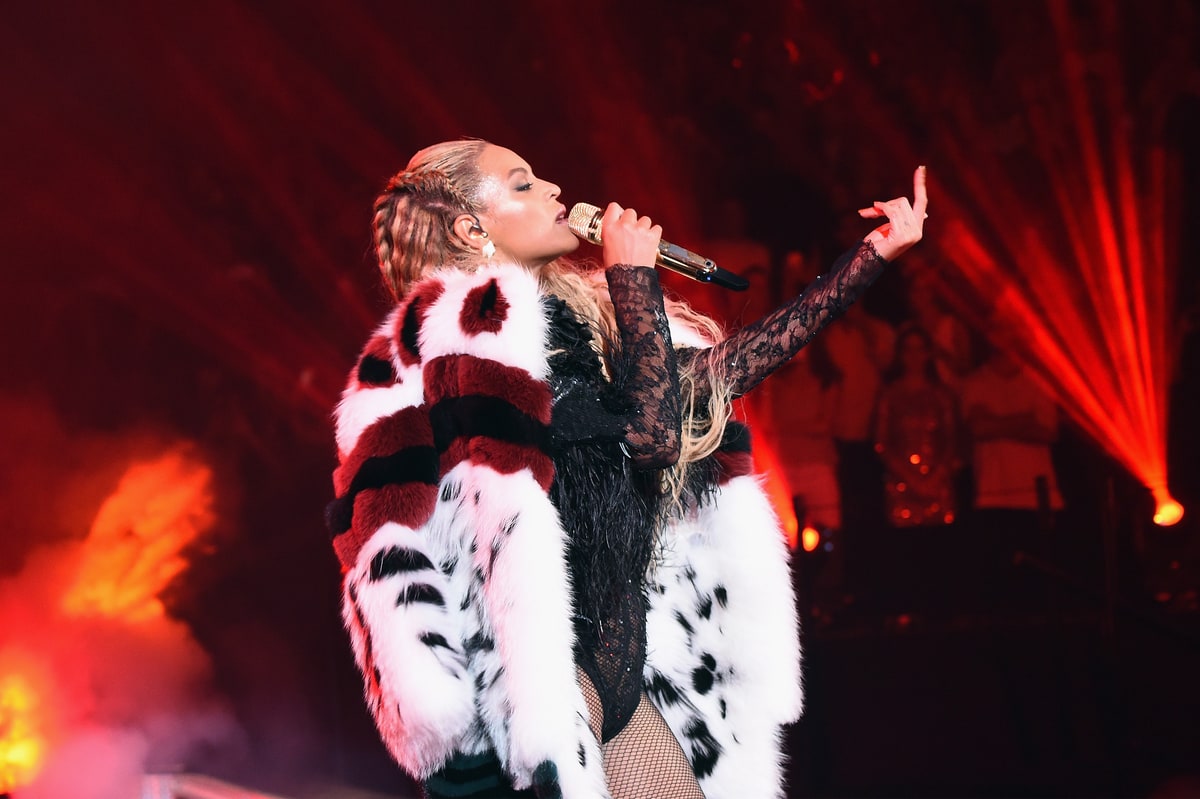 On Sunday night crowds flocked to Madison Square Garden, but this time it wasn't for a concert or a sporting event. The star studded hoards found their way to Midtown Manhattan for MTV's VMAs, held in honour of Video Vanguard Award winner Rihanna. Expected to be all about Rihanna this year, Beyonce still managed to steal the show with her 15 minute
Lemonade
medley. Beyonce and her 16 dancers started on a serious note as the songstress took to the stage dressed for a funeral for her performance of "Pray You Catch Me". The rest of the medley became more upbeat, setting the tone with "Hold Up", "Sorry" and "Don't Hurt Yourself". While Beyonce's performance was a pleasant surprise, the crowd was still waiting with baited breath for Rihanna's highly anticipated medley. Expected to star in an over the top medley of her own songs alongside her iterations of songs by her idols (as all recipients of the Video Vanguard Award do). Performing four separate medleys, Rihanna opened the show with an updated "Don't Stop the Music", which was inspired by Michael Jackson's "Wanna be Startin' Somethin'" in sampling "Soul Makossa". Also singing some of her most upbeat club tracks with "Only Girl in the World", "We Found Love" and "Where Have You Been", RihRih got the show off to a magnificent start.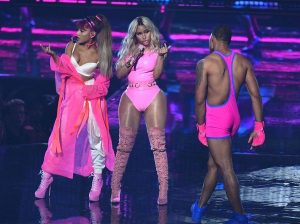 The evening also saw performances by Britney Spears, Arianna Grande and Nicki Minaj, but Rihanna once again stole the show when she and Drake furthered speculation about their rumoured relationship. In a grand gesture more suitable for the Bachelor's rose ceremony than an award show, Drake surprised Rihanna onstage after her soulful rendition of "Love on the Brain". Drake recounted their first meeting in a Toronto diner in 2005 while Rihanna was filming her "Pon De Replay" music video and Drake was still working as a for-hire restaurant singer. "She's someone I've been in love with since I was 22 years old; she's one of my best friends in the world. She's a living, breathing legend in our industry." Obviously enchanted by her work ethic and success, Drake went on to praise who she is as a person. "What's most impressive isn't the endlessness of stats, awards and accomplishments. What's most impressive is the person. She succeeds by being something which no one in this industry does, which is by being herself – the same girl from Barbados surrounded by the same friends. We love the videos, which change their artistic vision from year to year, but most of all we love the woman who hasn't changed from day one."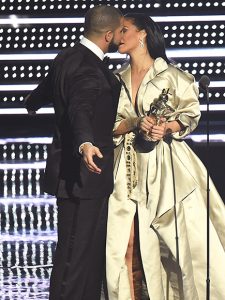 Despite Drake's best wooing tactics, Rihanna still rejected his kiss while accepting her award, instead opting for a kiss on the cheek. But that's not where the drama and speculation for the night ends. While the queen of drama herself, Taylor Swift was absent from the event, she still managed to stir up conversation when Kanye West addressed the recent controversy when introducing the premier of his latest video, "Fade". "Later tonight, 'Famous' might lose to Beyonce,  but I can't be mad," he said in reference to his interruption of Taylor Swift at the VMAs seven years prior. "You know, like, people come up to me like, 'Yeah, that's right! Take Taylor!' But bro, like, I love all y'all. That's why I called her", West said in an apparent attempt to lay the feud to rest for the time being. And the night proved to be one for addressing scandals. While many of the most well-known faces of the American Olympic Team were present, perhaps the most talked about athlete as of late, Ryan Lochte, was absent. The swimmer, who has been the center of controversy after falsely claiming he was robbed at gunpoint in Rio, wasn't missed at the event thanks to Jimmy Fallon's surprise impersonation. Complete with silver medal and blue hair, Fallon took to the stage to present the final award of the evening, the Video of the Year Award. Mocking the athlete's penchant for lying Fallon boasted how influential he was in the music industry, claiming "I had a 30-way with Kanye West. I made
Lemonade
with QueenBey. I'm Reezy with the good hair". And when prompted to announce the winner of the night's final award Fallon answered "I can't tell you that. I couldn't tell you even if there was a gun to my head, which there isn't, but I still couldn't choose!" before ending the night by presenting the award to Beyonce for "Formation".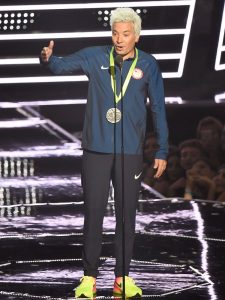 By Lindsay Cooper Banner image courtesy of Larry Busacca MTV1617 Getty.