The Baywatch star has been extremely busy this summer with a handful of projects and achievements. Not only did she win three National Film Awards for her production
Ventilator
but talks have been in order for Priyanka to be joining Jim Parsons and Claire Danes in the new indie drama
A kid like Jake
. The SHE covergirl is also beginning filming for the third season of her show
Quantico
this August. And to top it all off she will be joining the cast of the new Hollywood rom-com
"Isn't it romantic?"
alongside Pitch Perfect stars Rebel Wilson and Adam Devine, as well as the ever handsome Liam Hemsworth.
The exciting rom-com follows the story of an architect and Priyanka will be playing an important side role as a yoga ambassador. The film seems very promising and we are excited to see Chopra show off her acting skills in her third Hollywood film.
Shooting has already begun for
"Isn't it romantic"
, with some amazing behind the scene photos of all the stars in action. The first set for the film will be the very famous central park in NYC. Here are some photos from the shooting!
https://www.instagram.com/p/BWbpAATj9Cz/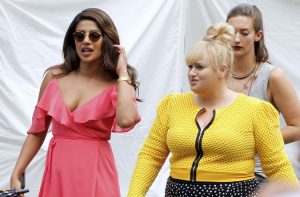 This Valentines day film is the perfect recipe for a rom-com. A distressed single woman decides to put everything in her life in order and meets the man of her dreams. Natalie (played by Rebel Wilson) is an architect who works hard to get noticed at her job, but doesn't have much luck. She has an encounter with a mugger that renders her unconscious, waking to discover that her life has suddenly become her worst nightmare.
Liam Hemsworth will be playing Blake, a handsome and successful architect. Adam Devine will be playing Josh, a handsome best friend and client. And of course Priyanka will be the beautiful yoga ambassador, Isabella. The film is set to release on Valentines Day, February 14th, 2019.
The lineup is great, the timing is great and the cast is amazing. We will definitely be hitting the theatres on Valentines day for the release of the hit!
Will you be watching out for
"Isn't it romantic?"
Let us know!
By Maheen Malik