"I am so excited to be a part of this," says Priyanka as she talks Diversity and Female Empowerment. "Bridging the Gap" is Gap's new ad campaign which hopes to celebrate the differences and similarities between all the people of the world. "There are so many gaps in this world that need to be filled," the two time SHE cover girl emphasized as she talked about the campaign.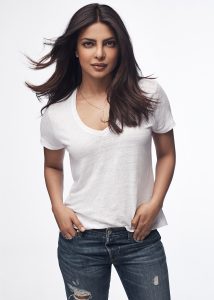 "Bridging the Gap is exactly what the world needs right now," the Quantico star shared in an exclusive behind-the-scenes interview on the set of the star-studded video. "We, in this generation, and our children going forward, need to have a relatively evolved sense of thinking, which goes beyond race."
The ad features people with different hair, skin and body types to show that celebrating our differences shouldn't mean that we're different. "Celebrating our differences doesn't necessarily mean that we need to be different," Chopra shared. "Celebrating our differences is being proud of where you come from, but engulfing other people who are different than you into your world." Priyanka puts it perfectly, it's important for the world to come together and celebrate our diversity and cultures.
The other amazing A-listers featured in the video are; Wiz Khalifa, Christie Brinkley, actor Jonathan Groff, actress Yara Shahidi, model and activist Adwoa Aboah, designer Alek Welk, champion fencer Miles Chamley-Watson, and models Maria Borges, Fernanda Ly, Lineisy Montero, Ellen Rosa, Casil McArthur and Jasmine Sanders.
We commend GAP for such a powerful and yet so simple and stunning campaign! Check out the ad below and let us know what you think!
By Maheen Malik