L'Oréal Paris's has a new ambassador to turn heads at the Cannes Film Festival's red carpet this year. That's right, Elle Fanning will be representing L'Oréal as their International Spokesperson. The actress is also starring in two other films being screened at the festival making it a big week for her.
Fanning explains how she has always felt close to the brand as her grandmother used L'Oréal lipstick since her younger days. The actress told WWD that she loves how the brand celebrates "women as a whole". She feels that beauty isn't only about taking care of ones skin, hair and body but also a personal expression of freedom and creativity.
Elle Fanning will be one of L'Oréal's youngest faces as it's star studded line up of spokespeople continues to grow. Some ladies of L'Oréal include, Julianne Moore, Susan Sarandon, Andie MacDowell, Naomi Watts, Eva Longoria and Blake Lively.
Due to her younger age, the actress hopes to get more in touch with millennials and spread more positive messages of beauty through social media. She wants to encourage confidence and creativity when it comes to makeup. Fanning deems herself at the perfect age to be discovering who she is and learn and discover the type of women she wants to be. She says she is most looking forward to play into that area for younger girls.
The 19 year old star has been hard at work juggling all the amazing opportunities that she even missed her prom last year. However, her date (as well as her best friend) flew to Cannes last year with a tux and dress to have their very own prom before the red carpet!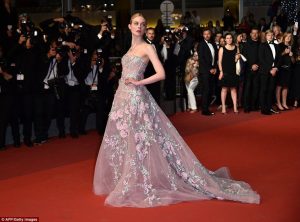 "Elle is a natural choice for the brand, as it highlights our love for beauty and cinema," said Pierre Emmanuel Angeloglou, L'Oréal Paris global president, in a statement.
We cannot wait to see Elle Fanning at the red carpet this year, wishing the actress the very best on this new voyage!
By Maheen Malik