New York Fashion Week was graced with the innovative designs of Rocky Boston. The American designer's "Utility Glam" line is where high fashion couture meets exciting street vibes. Her use of asymmetrical hemlines and cut out style dresses paired with flowing fabric gives a wispy look to her structured dresses. Whether it be a plunging or high neckline, one sleeve or none, floor-sweeping pants or form-fitting mini skirts, Rocky Boston doesn't fail to impress. With bold red makeup looks to complement these even bolder cinched frocks, this is an artist to keep an eye on!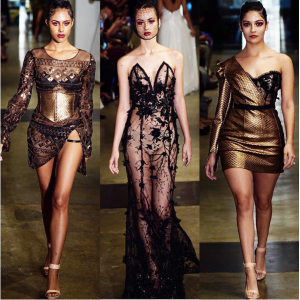 Photo courtesy of @rocky.boston
These gorgeously gilded designs give a Baroque flair to statement worthy evening dress. Her use of dreamy black organza softens the appearance of the solid gold used for the reptilian-like fabric.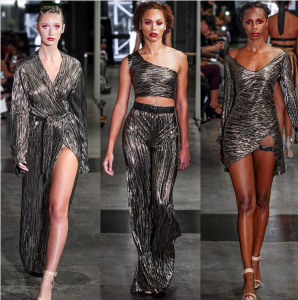 Photo courtesy of @rocky.boston
 These Grecian inspired grey outfits are fit for any goddess. The flashy flowing fabric looked almost like water rippling down the runway when it caught the light. A nice contrast to the other designs of the evening.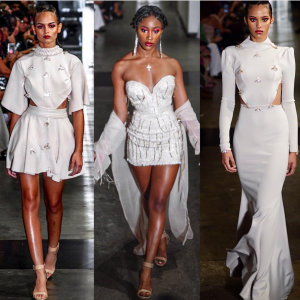 Photo courtesy of @rocky.boston
Though the most monochromatic designs of the evening, these dresses were particularly striking paired with the red lips and eye makeup. These cohesive looks were simply elegant, especially with the jewels decorating each dress.
Rocky Boston's New York Fashion Week showcase was a huge success. I know we're all looking forward to what the Houston, Texas couturier creates next!
By Louise Crawford