"So I made it to Harvard" is how Rihanna began her acceptance speech for the Humanitarian of the Year Award on the evening of February 28th. The crows errupted in cheers for the singer and she continues her speech by recounting her start into humanitarian work starting at the age of 18. Since then, she has started and teamed up with numerous charity organizations to aid with children's education efforts around the world.
As I stare out into this beautiful room, I see optimism, I see hope, I see the future. I know that each and every one of you has the opportunity to help someone else. All you need to do is help one person, expecting nothing in return. To me, that is a humanitarian," 
she says as she addresses the room. "
People make it seem way too hard, man. The truth is, and what I want the little girl watching those commercials to know, is you don't have to be rich to be a humanitarian. You don't have to be rich to help somebody."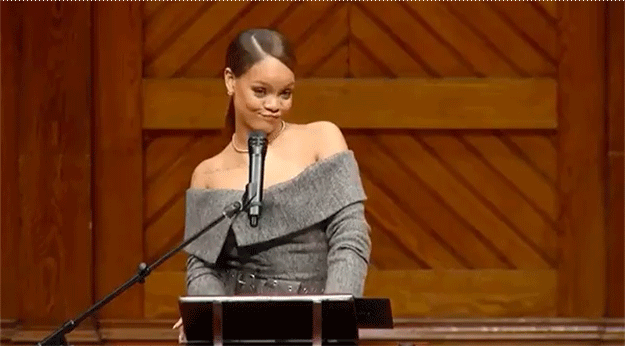 Way to go, RiRi! Watch the entire live stream of the event here: By ROWAN DALKIN
In an off-the-shoulder belted dress with a thigh slit and matching thigh high boots, Rihanna made an captured our attention from the moment she walked in-but it was her words of wisdom and inspiration that kept us captivated. "