Fashion week is always a confusing sartorial ragbag. Spring/Summer trends for the next year debut on the runways before we have much of a chance to get our hands on the Autumn/Winter trends debuted six months earlier. With warm weather persisting through September, most of us are still sticking to our SS16 wardrobes as the SS17 trends begin to appear. So what is the proper way to dress for fashion week? Do wedress for the weather with SS16, the season of AW16, or do we usher in SS17 early? Well unless you have access to the yet to be released collections currently on runways (unfortunately unlikely), you'll have to settle for a healthy dose of each. We turn to some of the biggest influencers in the fashion industry to see how to can mix our SS16 and AW16 wardrobes to mimic the outfits currently strutting down the catwalks in New York.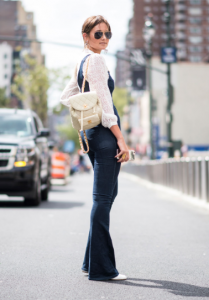 We all thought overalls were on their way out again, ready to look back at the light wash, baggy denim dungarees  and cringe like we often do after bringing back mid-90's trends. But after seeing the nautical-themed spin Gigi Hadid and Tommy Hilfiger put on the wardrobe staple in their collaboration, we're willing to keep the wardrobe staple for another couple of seasons. Or for as long as the skin-tight, dark-wash iteration sticks around.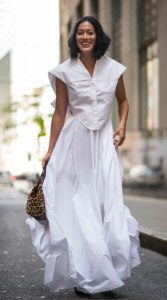 Uniform dressing always experiences a resurgence in autumn. It seems, no matter your age, you're always preparing for the stiff dress codes associated with back to school. But with the autumn essential appearing in SS17 collections from Carolina Herrera, Rag & Bone and Alexander Wang, it seems dress shirts will be sticking around through next year. (Note to self: now might be the time to invest in this versatile staple!)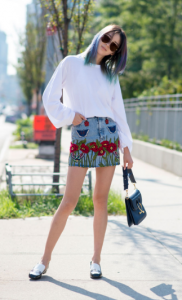 With embroidered jeans appearing on the racks of every high street retailer for AW16, it's the smaller designers like Claudia Li that are providing this trend with some staying power. This influencer makes the AW design SS friendly with a light-wash skirt, rather than the dark-wash jeans we are accustomed to seeing such detailing on.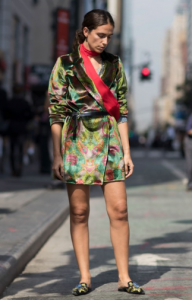 One of this past spring's stranger trends was Pajama Dressing. Giving us the excuse to both wear our jammies to the office and invest in ridiculously luxurious nightgowns, we weren't ready to say "goodbye" quite yet. And it seems the fashion community agrees, with Lacoste embracing the trend with terrycloth robes and Victoria Beckham including silky dressing gowns in her transformative collection. Wear the trend early by seeking out pajama-esque silhouettes in jewel tones and a dark, autumnal palette.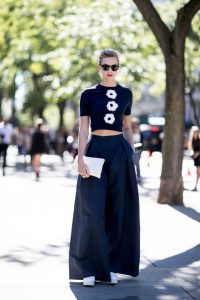 Even during the extremely rare Spring/Summer seasons where florals are not explicitly fashionable, you can always get away with incorporating them into any outfit. Luckily we won't have to break any rules to dress like a flower child in SS17, with petals present in every element from the makeup at Rosie Assoulin to the mod silhouettes at at Tanya  Taylor and the surprising Boho looks at Jason Wu. Unfortunately it's a little more difficult to brave the rosebuds in autumn, but Karlie Kloss has nailed it with the felted blooms on this navy blue sweater. While the term "floral" may conjure up pastel dreams, sticking to monochromes and neutrals will allow you to rock roses any season.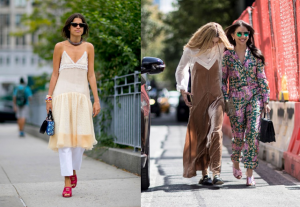 The trend of visible undergarments is made a bit more cold weather friendly with the heavily accented slip. While a slip dress is usually more of an accessory, with its lacy details peeking out from underneath more modest hemlines, this trend sees the slinky undergarment layered on top of other wardrobe essentials. Appearing on runways for Jill Stuart, Thakoon and DKNY, light silk or lace slip dresses can we worn alone or layered over a simple tee for a breezy SS look. If you want to continue wearing your slip year-round, invest in one made of a heavier material, like crushed velvet, and layer it over a turtleneck and trousers. By Lindsay Cooper Images courtesy of IMAXTREE.