Over the years, many phenomenal female directors have presented amazing films at Cannes, but never received proper recognition or awards when it comes down to it. Coppola's film
The Beguiled
won everyones hearts at the festival making her the second woman in 70 years to win best director in all of Cannes history. The first was Soviet filmmaker Yuliya Solntseva in 1961 for
The Chronicle of Flaming Years
.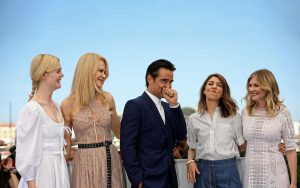 The film is very well introduced with a stunning cast; including Nicole Kidman as the headmistress of Miss Martha Farnsworth Seminary for Young Ladies. Kirsten Dunst plays as teacher Edwina and Elle Fanning as Alicia a student.
The film is based off a novel, this being its second adaptation since 1971. The film follows the inward-looking world of these young women is suddenly disrupted by the arrival of a wounded Union army soldier, played by Colin Farrell. The older adaptation focused on the soldier, but Coppola will focus on the women and their relationships with each other.
Congratulations Sofia Coppola on this historic win!
Here's the trailer of The Beguiled, let us know what you think
By Maheen Malik