Kevin Spacey has been hit with major headlines these past few days.
On the heels of the Harvey Weinstein scandal, Anthony Rapp, an actor most known from the musical, Rent, and CBS' All Access television series, Star Trek: Discovery, has bravely spoken out to BuzzFeed News. Back in 1986, Spacey was 26 and Rapp was 14 and both had the same social circle through performing on Broadway. One night, Spacey held a party and Rapp stayed until he was the last guest. Spacey is alleged to picking up Rapp, placing him on his bed, and climbing on top of him, making a sexual advance.
"My memory was that I thought, Oh, everybody's gone. Well, yeah, I should probably go home," Rapp said. Spacey, he recalled, "sort of stood in the doorway, kind of swaying. My impression when he came in the room was that he was drunk." Rapp doesn't remember Spacey saying anything to him.
"He was trying to seduce me," Rapp said. "I don't know if I would have used that language. But I was aware that he was trying to get with me sexually." – Rapp via BuzzFeed News
After the news broke, Spacey took to Twitter to issue an apology to Rapp. The 58-year-old actor also took the time to address his sexuality publicly and come out as a gay man. Spacey has received negative backlash by using his coming out to deflect the sexual allegations. Read his statement below.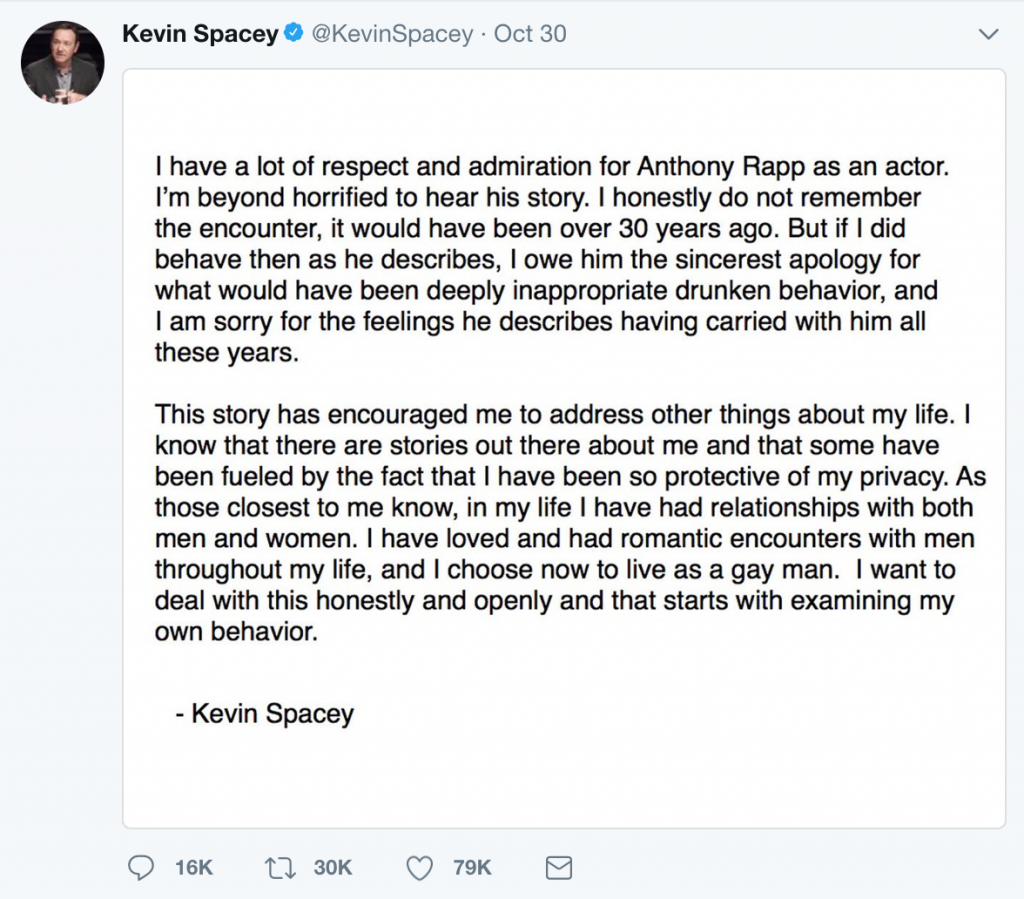 Coincidentally, Netflix announced that one of their first original programming, House of Cards, will end with the upcoming 13-episode sixth season, scheduled to debut next year. According to sources, the decision was finalized before Rapp's allegations. The critically-acclaimed political thriller drama first premiered in 2013. To date, it has received 33 Primetime Emmy Award nominations, including Outstanding Drama Series, Outstanding Lead Actor for Spacey, and Outstanding Lead Actress for Robin Wright, for each of its first five seasons.
While filming of the series is not yet complete, Netflix issued a second statement.
"Media Rights Capital and Netflix are deeply troubled by last night's news concerning Kevin Spacey. In response to last night's revelations, executives from both of our companies arrived in Baltimore this afternoon to meet with our cast and crew to ensure that they continue to feel safe and supported. As previously scheduled, Kevin Spacey is not working on set at this time."
What are your thoughts about all the news regarding Kevin Spacey? What would you do if you were sexually harassed in the workplace? Are you sad that House of Cards is ending? Share the conversation.
By Thor Villagomez
Instagram: @SHECANADA    Twitter: @SHECANADA    Facebook: SHE Canada Magazine