The 89th Academy Awards will air this Sunday at 7pm, and I for one am looking forward to 
La La Land
 winning Best Picture over 
Moonlight
. Not because I think it's the better movie -- really, it isn't-- but because nothing makes an Oscar Party quite as memorable as a violent brawl between Emma Stone fans and Emma Stone haters.
And what better way to watch your friends fight till the death than with the sweet, sweet taste of stress-free snacks swirling in your mouth? Behold, 5 Oscar Party treats that can be whipped up in 5 simple steps or less. So simple, in fact, you'll be done faster than you can say "Emma Stone can't sing"
Oreo Popcorn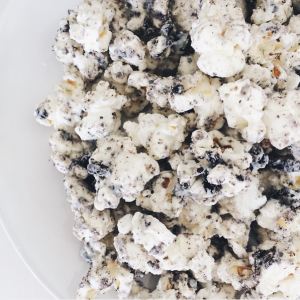 You'll need
: Oreo cookies, a bag of white chocolate chips, a bag of popped popcorn
Smash 10 Oreos in a gallon-sized plastic bag using a rolling pin. Then, microwave the chocolate chips in 20-second intervals, stirring occasionally. Combine the popcorn with the melted chocolate and add in the the Oreos. Cool for a few minutes and serve!
Recipe from Buzzfeed.
Guacamole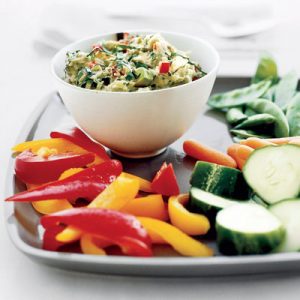 You'll need
: 1 can of white kidney beans, 1 tbsp lime juice, 1 jalapeño chile, 1/2 cup of cilantro leaves, 1/4 cup of chopped onions, salt, 1 ripe avocado, assorted vegetables and/or chips for dipping
In a food processor, blend kidney beans with lime juice until smooth. In the same processor, mix in jalapeño, cilantro, and 1/2 tsp of salt. Mash the avocado in a separate bowl and add into the bean mixture. Stir in more lime juice to taste. Serve right away with chips and vegetables or cool for up to an hour.
Recipe courtesy of delish.ca
Mini Stuffed Potatoes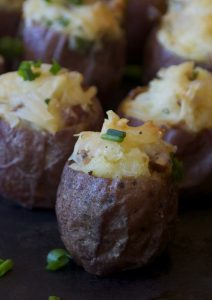 You'll need
: 24 baby Yukon Gold potatoes, 2 tbsp olive oil, 2tsp chopped thyme, 3 oz of bacon, 6 tbs. sliced chives, 1/2 cup sour cream, 1/2 grated Parmesan cheese, Kosher salt, pepper
Toss potatoes in olive oil, thyme, Kosher salt, and pepper. Transfer the potatoes on to a baking sheet and bake for 20-25 minutes at 450 degrees Fahrenheit. Once cool, delicately hollow out each potato (using either a small spoon or melon baller). Place the innards into a mixing bowl and mash, stirring in the sour cream, chives, bacon, and remainder thyme, salt, and pepper. Re-fill the hollowed potatoes with your mixture and sprinkle Parmesan cheese on top. Return the potatoes to the oven and cook until filling heats through (probably for another 8-10 minutes). Cool slightly, then serve.
Recipe from Mamma's Gotta Bake.
Goat Cheese and Walnut Stuffed Celery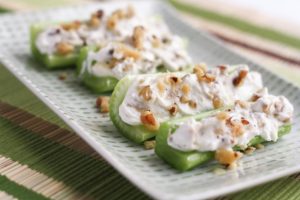 You'll need
: 4 celery stalks (cut into thirds), a pack of spreadable goat cheese, 1/4 cup of chopped walnuts, honey
In a medium sized bowl, mix goat cheese with chopped walnuts. Spoon the mixture into the celery stalks and drizzle with honey.
Recipe from The Little Kitchen.
Chocolate Covered Potato Chips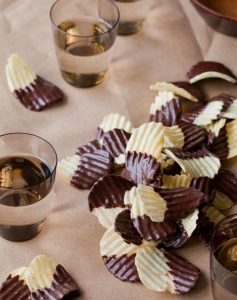 You'll need: 1 1/2 cups of chocolate chips, 1 bag of ridge-cut potato chips (kettle chips and ridge chips work best)
Melt the chocolate chips in a heat-resistant bowl placed over another bowl filled with simmering water. Stir until smooth. Dip each chip into the chocolate so that half of it is submerged. Shake off excess and place ships on a baking sheet. Wait till chips dry completely before serving.
Recipe from Spoon Fork Bacon. 
by
Imaiya Ravichandran