As every good Canadian knows The iHeartRadio MMVAs are an annual awards show presented by MUCH to honour the year's best music videos, taking place in Toronto, Ontario. This years host was none other than Awkwafina of Crazy Rich Asians, Dude and Oceans 8 (this girl is everywhere these days). She was hilarious; "First of all, thank you for the sweet messages and congratulations on the recent Emmy nominations," joked Awkwafina on stage. "I am not Sandra Oh. I am not Sandra Oh, alright? That's another Asian. It's about me here."
In fact last night she made history as the very first Asian-American to host a North American awards show!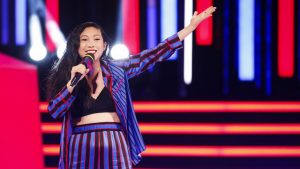 Speaking of representation, Awkwafina had this to say about the overwhelmingly positive feedback to Crazy Rich Asians "People react in a way that moves me," said Awkwafina. "Representation is important and for Asian-Americans and for everybody, it's a universally epic film, and the response has been out of control." Aside from making history and starring in major blockbuster hits, Awkwafina killed it in multiple outfit changes. Starting off with a black and white checkered off the shoulder number, followed by blue, red and black striped suit ensemble on stage and finishing off with a glitzy silver jumpsuit! Shawn Mendes, a Toronto native was also in attendance and took home not one, but four awards; Artist Of The Year, Best Pop artist, Fan Fave Artist and Fan Fave Video. He, of course, showed lots of love to Toronto;
                                                           "This is home, This means the absolute world to me."
He also made a surprise appearance on stage in disguise as Marshmello to accept his award for him stunning everyone including our girl Awkwafina!
It's great seeing a Toronto native achieving their dreams and being able to be recognized for their achievements in their hometown is great. It's amazing seeing a woman of colour host a major awards show and speak out about something as significant as representation on a Canadian media platform. It'll be great to see if Hollywood and Canada's own media giants recognize the importance of representation for future projects.
By Daman Grewal.